You are here
Around and Beyond Seville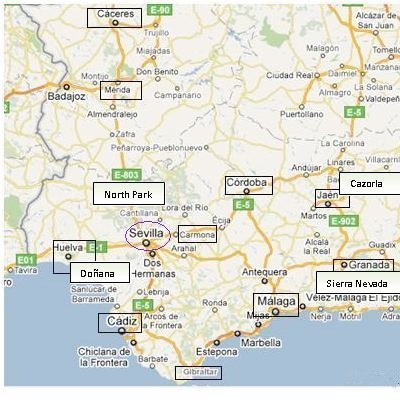 Please, for further information about Andalusia visit www.andalucia.org and the web pages detailed below for more specific information of the different places.
Italica Roman city (9 km from Seville)
Surpassed only by Alexandria and Rome, Italica was the third largest city of the expansive Roman world and the very first Roman settlement in Spain. Founded in 206 B.C, Italica is extremely easy to get to from Sevilla's Plaza de Armas bus station, with buses frequently running the quick 20 minute route between the two historic cities.
More info in: http://www.museosdeandalucia.es/cultura/museos/CAI/?lng=en
Granada (Alhambra) (252 km from Seville)
The Alhambra was a palace, a fortress, and a citadel; the residence of the Nasrid Sultans and top government officials, court servants and the royal guard. It is currently an artistic-historical monumental group with four clearly distinguishable zones: the Palaces, the military zone or Alcazaba, the city or Medina, and the villa of the Generalife, all of them surrounded by woods, trees, gardens, parks and vegetable gardens.   
There are trains and buses that constantly operate between Seville and Granada. For train tickets, head over to the Santa Justa train station. Otherwise, check out the bus schedule at the Prado de San Sebastián bus station.
More info in: www.alhambra-patronato.es   http://www.turgranada.es/?id_idioma=2
Huelva and Cádiz (Atlantic Ocean beaches "Costa de la Luz") (95-125 km from Seville)
The Atlantic stretch of Spain's southern coastline is appropriately called the Costa de la Luz, or Coast of Light.
Depending on which city you're heading to, buses heading south to the various Costa de la Luz locales leave frequently from both the Prado de San Sebastián and Plaza de Armas bus stations.
More info in: http://www.turismohuelva.org/indexingles.php
http://www.cadizturismo.com/ing/1024/index.asp
Strait of Gibraltar (200 km from Seville)
The Strait of Gibraltar (Estrecho de Gibraltar) is a narrow strait that connects the Atlantic Ocean to the Mediterranean Sea and separates Spain from Morocco. Europe and Africa are separated by 14.24 km of ocean at the strait's narrowest point.
More info in: http://www.estrechodegibraltar.com/indexingles.htm
Cordoba (Mezquita) (143 km from Seville)
Cordoba's breathtaking Mosque-Cathedral, is the structure most symbolic of Spain's diverse cultural history. The site was originally home to a Visigoth church. Later, when the Muslims gained control of the city, they demolished the church and replaced it in 785 A.D. with what would expand over the centuries to become an absolutely enormous and magnificently embellished mosque. In fact, you'll quickly discover just how huge it is when you see that following the Spanish monarchy's reclaiming of the city, a full-blown cathedral was constructed right smack in the middle of the Muslim prayer space.
An inexpensive bus ride out of the Prado de San Sebastián bus station will get you to Córdoba in less than two hours. If you'd rather travel by rail, AVE (45 minute ride) and regular (90 minute ride) trains leave frequently from the Santa Justa train station.
More info in: http://english.turismodecordoba.org/index2.cfm
Malaga (Mediterranean beaches "Costa del Sol") (209 km from Seville)
Spain's Mediterranean coast of the province of Malaga is called Costa del Sol (Coast of the Sun). The Costa del Sol has been considered an international tourist destination since the early fifties of the past century.
There trains and buses that constantly operate between these two cities.
More info in: www.visitacostadelsol.com
Carmona (Roman town necropolis) (30 km from Seville)
Carmona is a picturesque, small town and given its proximity, Carmona shares a similar history to Seville, and was an important Roman city.
The Necropolis of Carmona, that was discovered and excavated at the end of the 19th century, It consists of over 900 family tombs which date from 2BC to 4AD. The tombs have maintained a large number of paintings in typical Pompeian style showing birds and fruits.
There are two particularly outstanding tombs that stand out. The elaborate Elephant Tomb (Tumba del Elefante) next to which you can see a bath, kitchen, benches and banquet table which show how families celebrated the death of their relatives. And, the Tomb of the Slave (Tumba de Servilia) is even more impressive as it is on two floors with columns and a wide patio. 
More info in: http://www.turismo.carmona.org/turistavirtual.htm
North Park Sevilla  (80 km from Seville)
The Sierra Norte Nature Park, in the province of Seville, has an extension of 177.484 hectares. Comprises a region of Sierra Morena where the countryside is dominated by extensive forests of oaks and cork oaks. Among the rivers that flow through this mountain system, of highlight is the Rivera del Huéznar, habitat for otter, and on some stretches of which have developed spectacular hanging forests. It is also the only trout river in the province. The existence of mineral deposits has favoured settlement since prehistoric times. Visigoths, Romans and Arabs have all left remains in the towns in the district.
More info in: http://www.andalucia.org/destinos/zonas-turisticas/sierra-norte/
Doñana Natural and National Park  (25 km from Seville)
The Parque Nacional de Doñana is one of Europe's most important wetland reserves and a major site for migrating birds. It is an immense area (a protected buffer zone) with an extension of 54.000 hectares, in the provinces of Huelva, Sevilla and Cádiz. It is internationally recognised for its great ecological wealth. Doñana has become a key centre in the world of conservationism. The park is an area of marsh, shallow streams, and sand dunes in Las Marismas, the Guadalquivir River Delta region where it flows into the Atlantic Ocean. In 1994 UNESCO designated the park a World Heritage Site, also recognised it as a Biosphere reserve.
More info in:
http://www.andalucia.org/en/natural-spaces/parques-nacionales/donana/?province=
Sierra Nevada Natural and National Park  (287 km from Seville)
The Sierra Nevada is a dramatic, rugged and extensive mountain range. The highest in Europe after the Alps and the most significant section of the Cordillera Penibética. It is a UNESCO Biosphere reserve. The protected area encompasses 174.849 hectares of torrential rivers, sheer-sided gorges, stony scree slopes, glacial lakes between snowy summits and, in the foothills of the Alpujarras, cultivated terraces of almond trees and vegetables.
More info in: http://www.andalucia.org/sierra-nevada/
Cazorla Natural Park  (319 km from Seville)
With a total surface area of 209,920 hectares and covering almost a fifth of Jaen province, this is Spain's largest protected area and one of its most extensive forested zones. Located in eastern Jaen province, it connects the Sierra Morena and the Subbética mountain ranges. The highest peak in this immense park is Pico Empanada at 2,107m and the entire park is higher than 600m. Recognizing its exceptional ecological importance, it was designated a UNESCO Biosphere reserve in 1983 and created a natural park in 1989. Two of the Iberian peninsula's most important rivers, the great Río Guadalquivir and the Segura, have their sources in the Sierra de Cazorla, amid some of the wildest landscape in Spain.
More info in: http://www.andalucia.org/en/natural-spaces/parques-naturales/sierras-de-cazorla-segura-y-las-villas/?province= 
Merida (very well kept roman ruins) (197 km from Seville)
Established by the Romans in 25 B.C., with the name of Emerita Augusta, Merida retains an extensive collection of Roman ruins and has a fabulous museum devoted to Roman history. The "Archaeological Ensemble of Mérida" is a UNESCO World Heritage site.
Some of the most emblematic construction:
The Roman Theater and Amphitheater: excellently preserved theater and amphitheater, conveniently situated side by side.
The Roman Bridge (Puente Romano): one of the longest bridges built by the Romans.
The Templo de Diana: ruins of an old temple.
Circo Romano Hippodrome: the ruins of an ancient stadium where chariot races would have been held. Nearby is an old aqueduct.
The Zona Arqueológica de Morería: archeological diggings.
More info in: http://www.ciudadespatrimonio.org/ciudades/index.php?cd=7
Caceres, medieval downtown  (264 km from Seville)
In 1986, Cáceres was included in the list of World Heritage Cities. Built between the 14th and 16th centuries by rival noble families in a sort of architectural war for prestige and socio-political control, the barrio antiguo is comprised of miniature palaces once used to show off each family's power and wealth. Wander through this magnificent maze of tiny streets with palaces on almost every corner you can enjoy the beauty of this medieval city. Caceres has four main areas to be explored; the historical quarter, the Jewish quarter, the modern center, and the outskirts
More info in: http://en.turismo.ayto-caceres.es/
Transportation information
Train station: Estación Santa Justa
Avda. Kansas City s/n. 41007 Sevilla, Information phone +34 902 320 320. International information phone: +34 902 243 402
For further information about train services and other train types and destinations please visit
http://www.renfe.es/horarios/english/index.html
Bus station: Plaza de Armas
Avenida del Cristo de la Expiración, s/n. - Sevilla
Tel: +34 95 490 80 40
Bus station: Prado de San Sebastian
Manuel Vázquez Sagastizábal s/n. - Sevilla
Tel: +34 954 41 71 11
 
For further information, please check http://www.sevillaonline.es/english/seville/
MORE LOCAL INFORMATION